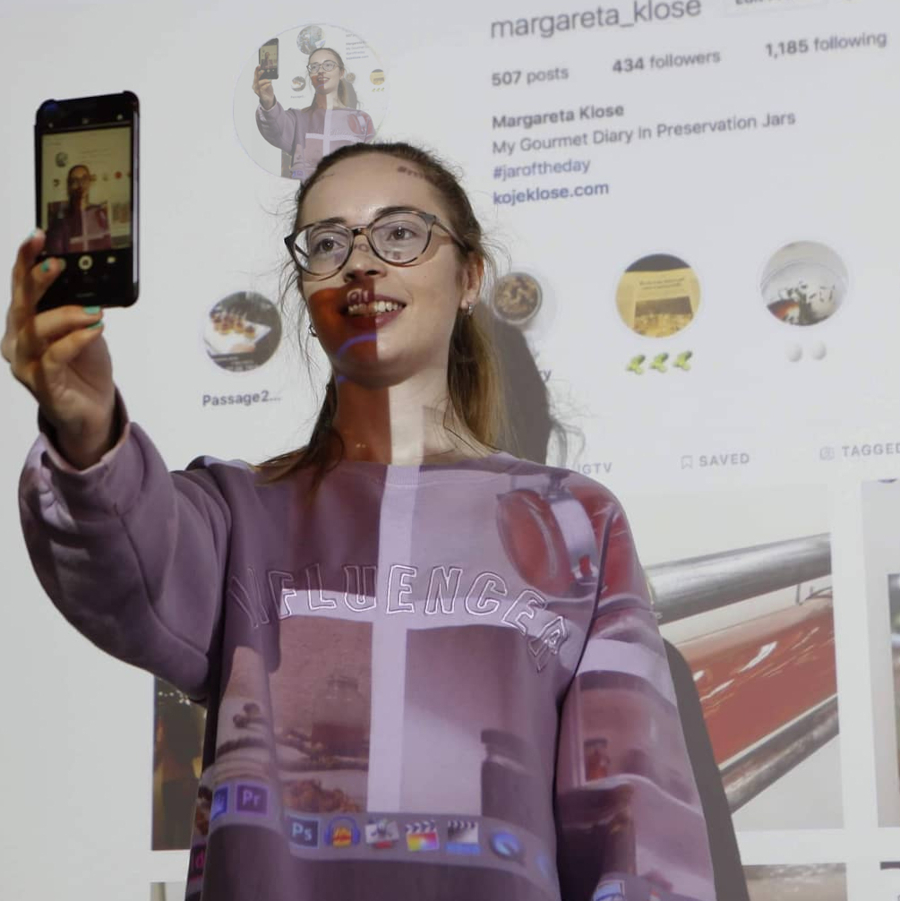 Photo courtesy of Eva Rybarova
artist´s name
Margareta Klose
place of work
Salzburg, Vienna, Brussels
place of study
2018-2020 Master TransArts Universität für Angewandte Kunst Wien: Franz Thalmair & Nita Tandon
2019-2020 école de recherche graphique Brüssel: Design & Politics, Installation/Performance, Joëlle Tuerlinckx, Marc Wathieu, Pierre-Philippe Duchâtelet
2013-2018 Mozarteum Salzburg: Malerei, Bildhauerei, Bildnerische Erziehung mit Nicole Wermers, Dieter Kleinpeter, Gunda Gruber, Ingrid Schreyer
2012-2018 Universität Salzburg: Germanistik, Geschichte, Politikwissenschaft
2012-2018 SCHOOL OF EDUCATION Salzburg: Pädagogik.
workshops:
University Mozarteum Salzburg
Museum of Modern Art Salzburg
VHS City of Vienna
Summer City Camp Vienna.
solo-shows selection
2017:
Im Grünen, Salzburger Kunstverein Kabinett
2020:
Influenza @Wohlmut: collective art space & residency, Wohlmutstr. 4 1020 Vienna
2019:
VEGANATOLIA, vegan Influencer Food Performance with Music release Vienna
2018:
Passage 2013-2018, Galerie Das Zimmer Salzburg
My Gourmet Diary In Preservation Jars ongoing on Instagram
group shows selection
2021:
Banal Complexities تعقیدات عادیة, Let´s talk Food!: Philomena+
2020:
Common Ground, Jahresausstellung Salzburger Kunstverein/Museumspavillon
Fortress of Salt, Recommended by Seamus Kealy, Elektrohalle Rhomberg Salzburg
Fit'ri:na فترينة festival Nourhan Maayouf & Margareta Klose: philomena+ Vienna
HAMBURGER LINIE, Performance Bazon Brock & students, Leopold Museum
2019:
SELF COMPETENCE, Performance with art students erg Gallery Brussels
MASCARADE MARATHON, queer collective, erg Gallery with Joëlle Tuerlinckx
PRESERVATION, gallery 7:069 «Cabinet of Curiosities» in Ljubljana City Hall
BIG PICKLE PICNIC, Margareta Klose & THE SLICERS Angewandte Festival Vienna
PICKLE SHOPPING, «lebt & arbeitet in Salzburg» Galerie Sophia Vonier Salzburg
PICKLE PICNIC, cellar of Galerie Rienösslgasse 20 Vienna
2017:
PRESERVATION 2013-2017, Barockmuseum Salzburg
PATHOS, «Grenzgänge» Bürgerzentrum Salzburg
Das Blaue vom Himmel, «Grenzgänge» Galerie Porcia Spittal/Drau
2016:
Couleurs en route «Next Generation VIII» Galerie in Traklhaus Salzburg
website
https://kojeklose.com/
gallery representation
Galerie Sophia Vonier Salzburg
About the artist
Margareta Klose's online presentation "selfie competence" revolves around the issues of self perception, self representation and self optimization. The artist takes on practices of sincere self exploration and reflects on the language of advertising and consumerism. In an ensemble of videos of her performances and documentations of interventions in semi-public space, Margareta Klose confronts us in a humorous way with the question: What is the self in our digital age of late capitalism?
Text by Aline Lenzhofer