AMIKO KAMIKAZE – WARS ARE MALE - online solo exhibition - March 27, 2022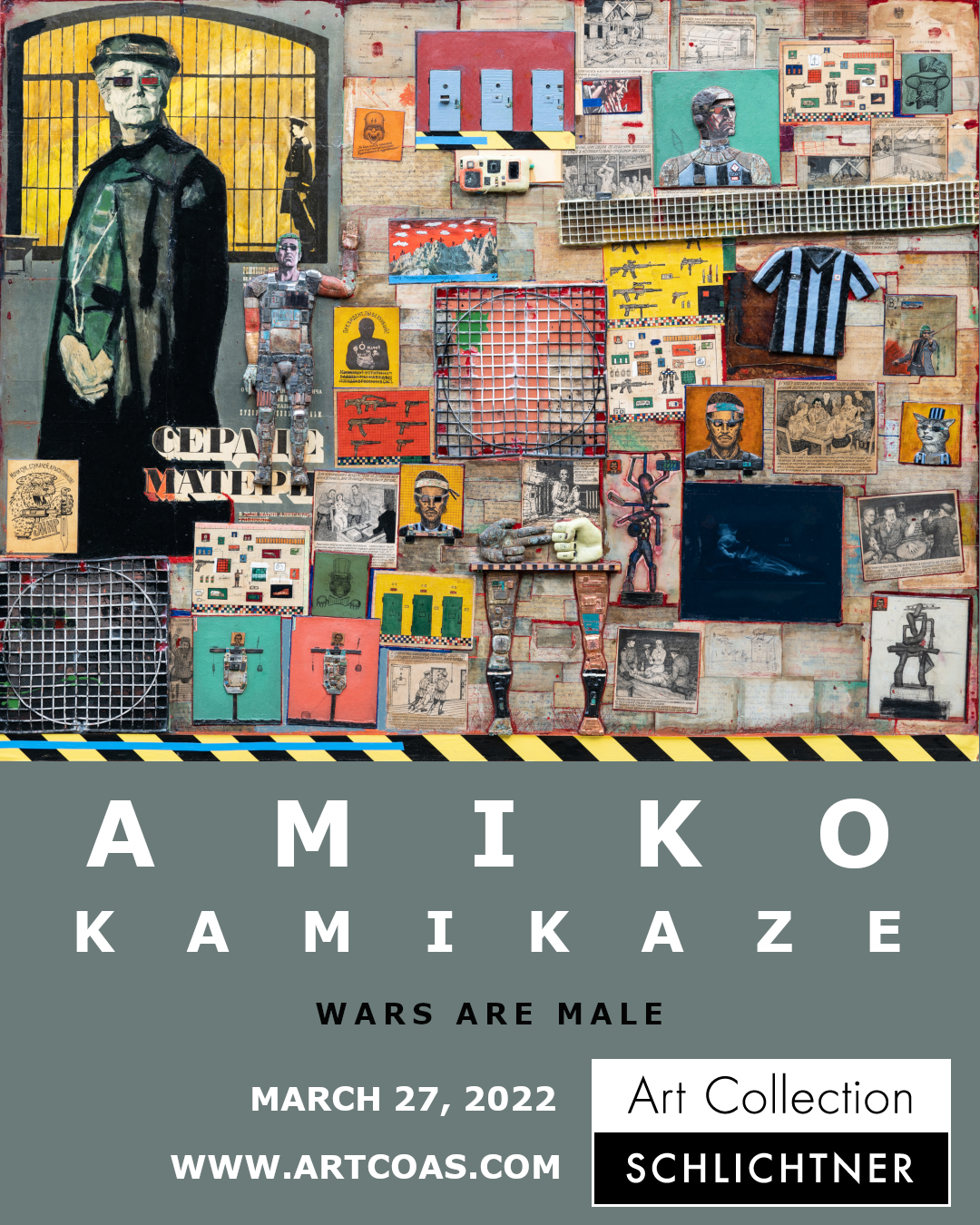 Fotocredit: photo courtesy of Amiko Kamikaze
After the dissolution of the Soviet Union, AMIKO KAMIKAZE experienced a world shaped by violence, anarchy and the law of the strongest in Georgia in the 1990s. In his art he analyzes and interprets the impressions from this time in his life.
In his assemblages he depicts confrontations that deal with victory and defeat. They are scenes on the stages of a specific social milieu. His characters are mostly, men. They speak the language of the streets. They wear special vests, weapons, uniforms and trophies, archaic symbols and criminal tatoos as semiotic vicarious agents. He creates his figures in the manner of a subjective naturalism, with reduced three-dimensionality and spiritualized materiality. They are archetypes with stylized bodies positioned in the flat pictorial spaces of a transcendent reality.
With his works, AMIKO KAMIKAZE reacts to the technopharma-patriarchal and colonial policies of corporations and governments of the 20th and 21st centuries. He visualizes the effects and excesses of such economic models and forms of government that are characterized by regular crises.
In his re-enactments, we become observers of what is forgotten and investigators of what is repressed, and so the images feel like warning cries from the past. We remember what we believed to be overcome and face a past that is catching up with us. At this point we look to the future and ask ourselves: when will peace conquer war?
AMIKO KAMIKAZE lives and works in Vienna. He studied contextual painting with Ashley Hans Scheirl at the Academy of Fine Arts in Vienna.
Text: Andreas Schlichtner, thanks to David Hassbach, edited by Kelly Dale, March 2022