Hadrien de Corneillan // Alan Neider // Begi Guggenheim, VANISHING, an exhibition about #climatecare @ Gegner.Haus, Perspektiven Attersee 2021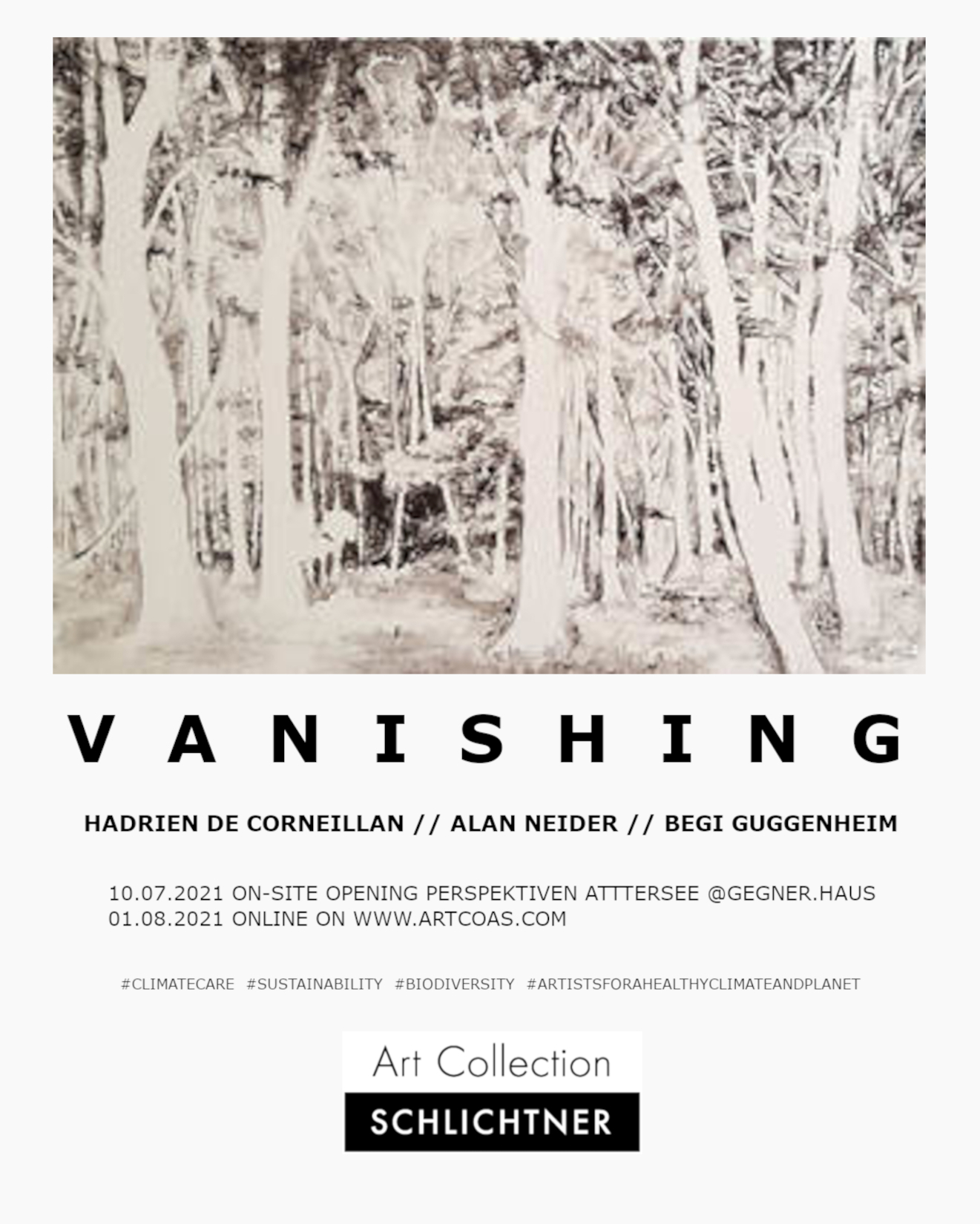 Fotocredit: Photo courtesy of Hadrien de Corneillan and Art Collection Schlichtner
VANISHING
HADRIEN DE CORNEILLAN // ALAN NEIDER // BEGI GUGGENHEIM
#CLIMATECARE #SUSTAINABILITY #BIODIVERSITY #ARTISTSFORAHEALTHYCLIMATEANDPLANET
Our exhibition, which will take place from 10 July 2021 as part of the Perspektiven Attersee in the Gegner-Haus on-site in Abstdorf/Attersee in Austria, is all about art that deals with the topics of CLIMATE PROTECTION, BIODIVERSITY and SUSTAINABILITY.
We have decided to make an online version of our on-site exhibition and are responding not only to the demand of many urgently needed steps to keep the climate and our planet healthy, but also to the CLIMATE CARE VIENNA BIENNALE FOR CHANGE 2021, which is currently taking place in Vienna. We want, within the scope of our possibilities, to set a good example for environmental stewardship.
Our exhibition does not take place in a sterile WHITE CUBE, because we think that there is nothing to gloss over and nothing to alienate concerning this topic. Fittingly, we present our works in the attic of the Gegner-Haus, a vacant building that will soon be demolished. The place corresponds to the basic idea of the art festival Perspektiven Attersee, to present art in unused houses. Also a form of sustainability, as we find.
Hadrien de Corneillan (F) provides the title for this exhibition with his painting "Vanishing". Here he paints a forest with thermolabile paint. If the ambient temperature rises to more than 30° Celsius/86° F – the forest disappears from the scene. If UV rays hit the image – it is destroyed. The questions that the artist asks the viewer is: what are the complicated and interconnected relationships between each of us and humanity as a whole with nature and the environment. Where do we see ourselves in these scenarios? What do we feel and what actions do we derive from it? In his other two works "Off shore/On shore" and "Looking for Arthur", he shows industrial ruins in a similarly meaningful way and thus addresses the relationship between past, present and future.
Alan Neider (USA) has been working since the 1970s on the exploitation of found objects for his objects, assemblages and paintings. 50 years ago, he moved into a house in Chicago and found glass remnants, wood, and metal in the basement and turned them into objects that he cemented with tar. Today he uses clothing and fabric remnants, sacks, bags and jute for his works and comes back to his works from the 70s with his two "Paint &Tar" paintings with the material tar. With his "Ikea painting" utilizing the famous blue Ikea sack, he alludes to mass production and mass consumption. With "Tapestry JB5" and his "Blanket Painting" he shows how to make art made of 100% recycled materials, namely blankets, fabric and paint, thus showing ways of recycling at the highest level.
Begi Guggenheim (GE/AUT) installs the intervention entitled "10000" for the exhibition, which consists of 100% garbage. He found glass doors, scrap metal, plastic bags, styrofoam and from them produced art, thus recycling them. He wants to show that man-made things, when they are abandoned, take extremely long to decompose or do not degrade at all. It would take at least 10000 years, or … never. As an art object, however, the parts are recycled and we can therefore speak of a sustainable project. With the sculpture "Wanderqualle (Mastigias)", the artist alludes to rising sea levels. The work depicts a jellyfish that has developed legs and now leaves the sea and can go ashore - an allegory to the threat to humanity as a result of overexploitation and revenge of nature. A designer piece represents the "lamp", which is made entirely of everyday materials and thus binds CO2 as a work of art.
We can look at art from different angles. It is important to talk about art, because this is how it can unfold into its full potential. In addition to the aesthetic dimension we are interested in the added value in cultural, social and ecological terms. When we review the individual works of art on display, we get to know the phases of the processes of change that are important for a healthy planet Earth: the insight that change is needed – the rehearsing of new behaviors – and the consolidation of new habits for a new balance.
#ARTISTSFORAHEALTHYCLIMATEANDPLANET
curator Andreas Schlichtner
assistant curator Begi Guggenheim
text edited by Kelly Dale