Begi Guggenheim ////////////// "works 2006-2020"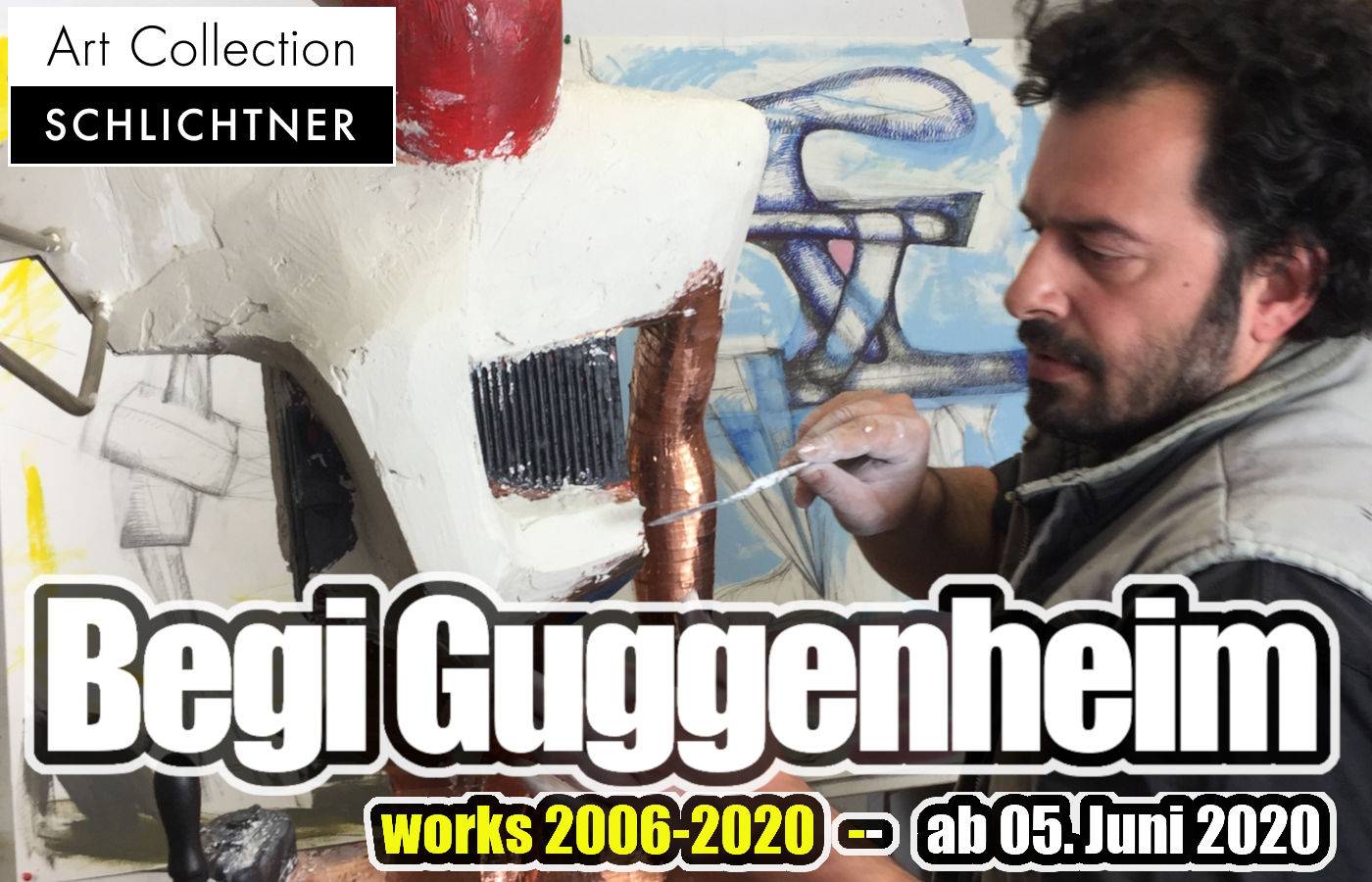 Fotocredit: Photo by Art Collection Schlichtner
The Art Collection Schlichtner welcomes the sculptor Begi Guggenheim and dedicates the first exhibition to him. We are in the middle of…
… the Corona crisis, many galleries now start to focus on online presence. All these circumstances have motivated us to make our own first online exhibition. It is in fact a mere online exhibition without any physical gallery rooms. We like to support artists, we like to motivate artists – to continue working, and to be active during these difficult times. This is our first online exhibtion and it involves photos, texts, videos and social media appearance. In 2019 we already had a collaboration with this artist when we created texts for his sustainability project "Mastigias – die Quälle" – a social-ecological and participative art installation project for the city of Vienna.
Since 2017 we proudly own two of Begi Guggenheims wonderful sculptures – "Nofretetetiti" and "Elektromüll Afrika" and several drawings. This artists was introduced to us by Christian Eisenberger whom we met him during the inauguration of an aluminium sculpture in situ, which was the favourite promenade of Ludwig van Beethoven, who also lived close to this place. The sculpture was errected in Zahnradbahnstraße 17a, 1190 Vienna and has the title "An die Freude", which is a reference to a poem of Friedrich Schiller and which was used by Beethoven in his Symphony No. 9.
All these activities were the starting point of an artist-collector relationship and also a friendship.
At the centre of this show are old, new and unfinished works. We aid to provide the viewer an extended retrospective. Besides the already above mentioned works we present sculpturs and drawings dating back to 2006, the time when Begi Guggenheim was a student of the Academy of fine Arts in Vienna. Many of the artworks on show are in different Austrian private art collections.
We viewed the Begi Guggenheims studio where he just had finished his Covid-19 high-relief artwork of a creature wearing a muzzle and a great deal of barrier tape and antiseptic flasks - and where he also currently worked on the "Runner", a running or quickly walking person taking a step. Next we show you our documention of a casting project, which the artist made in 2018 in Feldbach, an art casting centre in the south of Austria. Our photos include the wax model, the casting, the situation after moulding and polishing, adding corossion protection and painting. We were lucky to be on site when these activities occurred.
When we carefully look at Begi Guggenheims sculptures, we spontanuosely observe two things: the use of everyday objects as well as found objects and biomorphic forms and the artists main interest to create harmonic works. We always have to remember that the art of sculpture and objects is a three dimensional art, and must be seen with an overall view as it should be seen from all sides. In addition to this we have complicated work processes, which can be – in the case of bronze or aluminium casting – collaborative. Fundamental to the process of making such art ,besides the idea and a sketch, is making a carcass which will serve as a skeleton for diverse work materials, like the above mentioned found objects; plaster, plasticine, metals, screws and everything feasible the artist decides upon. Drilling and moulding are norm,al tasks. In any case it is fascinating that after so much work effort and power not only vigorous artworks emerge but also works of great subtlety. If we compare the powerful and kinetic aluminum cast "An die Freude" with the delicate and vulnerable forms of "Phobia" it becomes clear that the artists makes use of the full range of their expressive posibilities. Both of the above mentioned works are from 2016. We see from such diverse works that the artist is interested in the problems of composition and harmony.
Some of the subjects originate from the creation process as an intuitive work flow in the studio – like "Nofretetetiti" which is a bust of Nefertiti, one of the most famous women of ancient Egpyt and the antique world. In this case one might believe that this work was pre planned, but it was not – it just happened that the parts fitted together so well as to inspire the artist to title it "Nofretetetiti". Other artworks however are formed with the result already existing in the artists mind before the start of work in the studio and major elements are pre-planned in advanced – like in the case of "Mastigias – die Quälle" – a model of a creature resembling a huge jellyfish and/or amphibian being able to leave the sea and to threaten mankind. It is an apocalyptical allegory on climate change and rising sea levels and this huge art installation (12m x 6m x 5m) should be errected in Vienna as a warning to keep the upcoming problems in mind and to react accordingly. The artist would love to export his idea to other cities in the world but with corona paralyzing the world there is little chance to make this dream come true at this time.
Motion is also an important element in Begi Guggenheims work, best to be seen in the model of "Mastigias – die Quälle" and the "Runner".
The use of found objects and everyday objects can easily be explained by the inexpensiveness of the objects in question, and the fact that they simply fit harmoniously into the overall appearance such as in the case of the work "exhaust" where the artists worked with a used auto exhaust, or in the case of "Komposition in Gelb, Blau und Schwarz" where he used an industrial lamp, both artworks were made when he was a student in 2006. Begi Guggenheim already used pots, TV screens, functional radios and hotplates to form his artworks at this point in time. One finished artwork, a wooden sculpture from Africa, was deconstructed and modernized by the artist, who added electronic waste, such as old computer circuit boards and old light bulbs, calling our attention to long-distance exports of waste from the rich West to less materially wealthy Africa, a practice whereby wealthier societies exploit said differences in income and wealth to their advantage.
Not every idea ends up becoming a sculpture or a three dimensional art object. Some ideas just stay beautiful drawings with contrasting colors. In such drawings we find vivid architectural and sculptural models. Some of the drawings however experience the transformation from the sketch to the three-dimensional object and act therefore as disegno.
Begi Guggenheims works are in several superb Austrian private art collections and we are pleased to present many of the characteristic and important works of this artist. Due to Corona it was not possible to aquire photos and publishing rights of all works but we are optimistic to release them at a later time to make this retrospective complete. Before you review this exhibition please be informed that we have recorded two short videos, which were published on our YouTube channel. One video was made in Begi Guggenheims studio and the other is a summary of his works from 2006 until 2020.
Please have fun with the exhibtion!
Andreas Schlichtner, Vienna, 24th of May 2020, Art Collection Schlichtner